Our team focuses on exponentially growing the organization's reach and has significant expertise in providing unique web design solutions. We create our solutions, differentiating them from rivals and possibly making them scrumptious. Our digital presence has significantly expanded over the previous few years, which consistently inspires us to develop original innovations every now and then. Our business and marketing experts are available to assist you with your business both internally and externally, including making the website incredibly appealing. As we employ time-saving, cutting-edge approaches, our top innovations will amazingly well satisfy the various demands and needs of your corporation.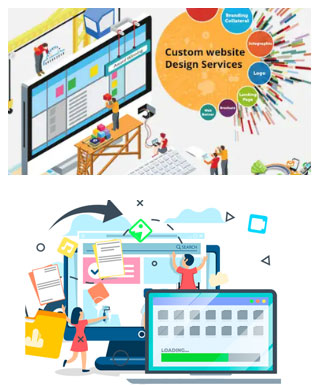 At Call4Digital Solutions, we are aware that developing a custom website takes careful planning and execution. To meet their specific needs and realise their website vision, we work closely with our customers. We are experts at creating custom websites, and we can create something special that is built just for you and your particular type of company. Our custom web development procedure includes the following important steps:
Detailed discussion of the requirements for your project
Developing and creating a specific website
Testing and bug fixes
Launching and upkeep
If you feel that your website is not as visually appealing or impactful as those of your competitors, then don't wait any longer to lose engagement from customers. Get in touch with us today and we will create a stunning custom website that will surpass your expectations. Our team has an excellent understanding of custom design and knows how to cater to the needs of a business to improve customer experience. Therefore, you can trust us, the leading Customized Website Designing Company in India, to create a website that will be a real gem. Custom website design is the process of creating a unique, custom website for a business, organization, or individual. A custom website design typically utilizes a variety of graphic design elements, such as typography, colour, layout, and imagery, to create a website that reflects the organization's brand and values.